Angels Log Homes Inc.
(780) 686-1685
Building a healthier world.
Green Angel 1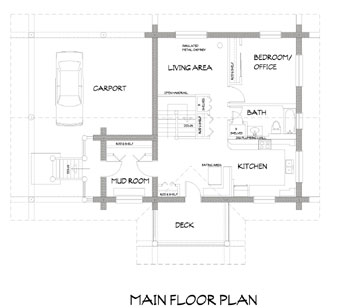 Details
Small footprint (1016 sq feet on the main.

Passive solar design and site placement.

Off-grid heat source, water heating and electrical, according to site restrictions.

Handcrafted log walls on the main, according to our rigid specifications, craftsmanship, and material use (including sheep's wool insulation).

Daylight basement with ICF walls allows for full size windows.

Pre-fabricated trusses for the roof.

Open carport provides shelter without impacting air quality.

Arctic entrance, combined with a roomy mudroom, reduces warm air loss.

Kitchen: open upper shelving reduces cabinet costs and is in keeping with the rustic nature of the house. A wood-burning cook stove could replace the standard stove.

Dining area: a built-in bench backed by a wall of shelving.

Root cellar reduces the size of refrigerator required.

Basement provides space to incorporate a composting toilet system and a greywater system.

A metal roof & rain water collection.

All windows ENERGY STAR.

LED and compact fluorescent lighting.

Flooring materials chosen from bamboo laminate, Marmoleum linoleum, FSC certified wood flooring, or recycled wood flooring.

Interior & exterior finishes that have no VOCs

Composting toilet or very low flush

Sustainable landscape design to aid in cooling and reduce outdoor water needs in summer, and to reduce wind in winter.

Clothesline

Salvaged hardware, doors and cabinets a bonus.
Plans