Angels Log Homes Inc.
(780) 686-1685
Building a healthier world.
News and events

NEW!! Visit our log building forum at logbuildingqas.com
As of November 2010, Angels Log Homes Inc supported Bullfrog Power! Bullfrog Power is 100% low-impact renewable electricity.
Through Our Choices
We specialize in Log Home and Timber Frame Construction

Custom built, and transported to any location in the world

We value environmentally friendly products

Built to National Building Code Standards - and better: see our Building Code

We strive to provide exceptional customer service, with attention to detail
We work on budget, and on time. Owners are welcome to participate in the building process. We enjoy teaching people about what we do, and how we do it. We like to be creative in what we do - and have fun doing it - because we love what we do.

Call us at 780-686-1685.
Builder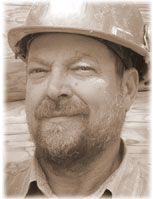 Dave has been a carpenter for over thirty years, working in the log house industry for over sixteen years now. He is passionate about his work and his integrity. Our crew members are also Journeyman or Apprentice Logbuilders and Carpenters. We adhere to safety standards on job sites. We want our employees to feel safe at work. For that reason, we use the safety equipment provided for our industry, and our job sites are drug and alcohol free.
Credentials

Journeyman Log House Builder, 16 YEARS

Journeyman Carpenter, 30 YEARS Structural

Structural Engineer Diploma, SAIT

Certified Builder

Member International Log Builder's Association